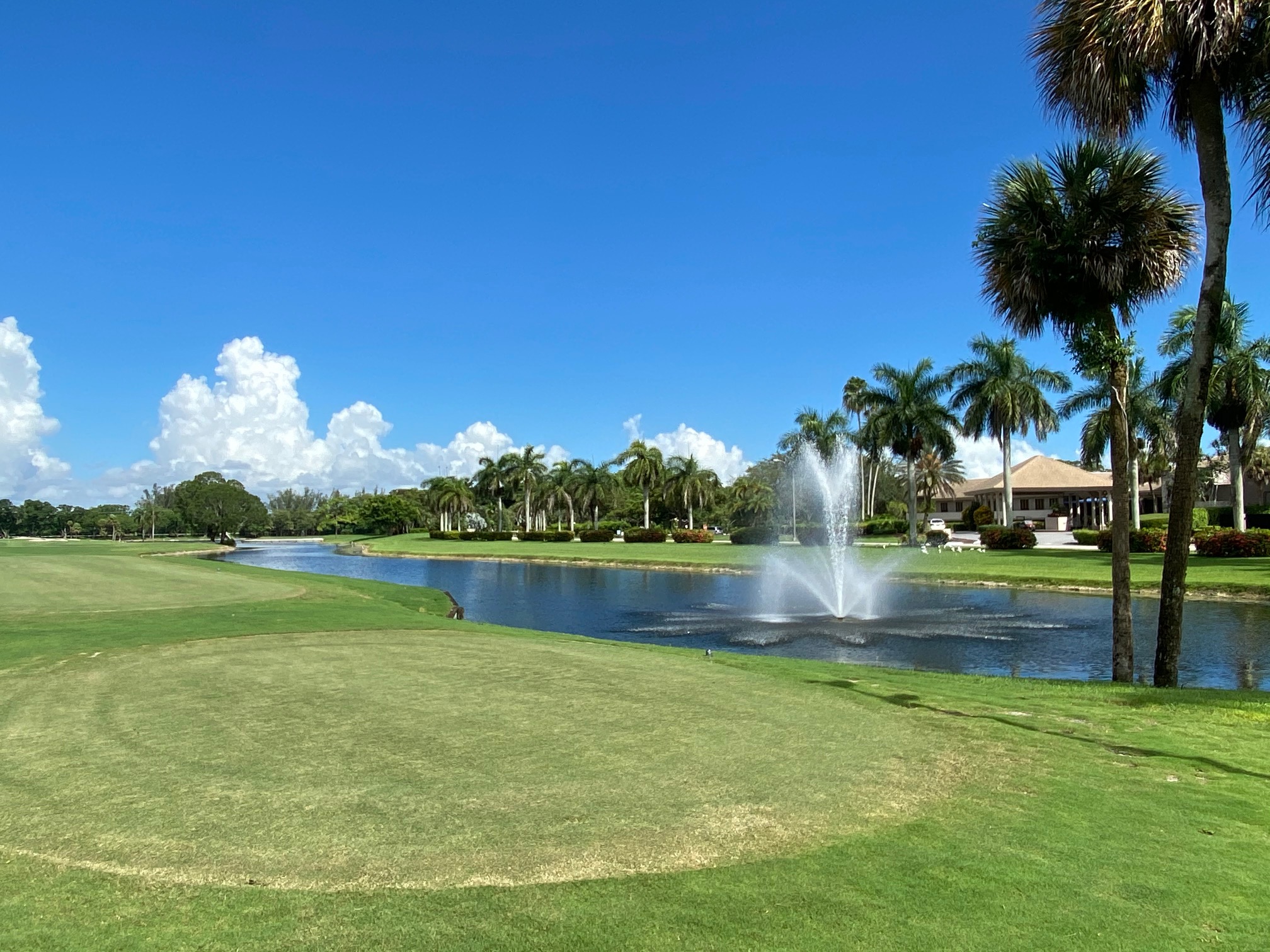 GOLF NEWS 3/19/2023

With the influx of so many new members who are playing on the weekends, it appears that I have to remind our membership that our pace of play of four hours and fifteen minutes must be adhered to.
My staff will be monitoring all pace of play and those members who are over the time limit for their hole will either be asked to pick up the pace and catch up to the group in front of them, or step aside and let the faster players play through. My staff will warn those people that are over their time limit and if the group continues to be over the time limit, there will not be a morning tee time given to them going forward and they will have to play in the afternoon.
I have been getting far too many complaints from membership of rounds of golf taking four and a half to five hours over the weekends, and I cannot allow this to happen going forward.
Our goal here at Boca Lago Golf and Country Club is to give every member the best experience, and playing at a good pace of play will afford that to everyone.
The next item I would like to address is those of you who are making tee times for a foursome and either show up with fewer golfers or do not show up at all. Any changes in your tee time must be relayed to the golf staff prior to the day of play. If the same member does not show up to their tee time or continues to sign up for a foursome and not be able to fill their foursome that day, tee times will not be available to them on weekend mornings.
---
LGA - Congratulations to the following LGA winners: Faye Zucker, Kim Van Leeuwen, Fran Brenhouse, and Ruth Kotcher!
---
Congratulations to
Carol Van Arkel
, the winner of the Ladies' 9-Hole.
---
MGA - Congratulations to the First Place winners, Joe Wohl and Greg Morris! Congratulations to the Second Place winners, Jack Zucker and Ray Handwerker!
Congratulations to George Young on winning Closest to the Pin!
---
DISCOUNT PRIZE WHEEL -
Every Friday come into the Pro Shop and spin the Prize Wheel for discounts on golf shirts and pants!
---
LGA LADIES - Chef Steve has implemented a New Lunch Buffet for you for $16.95**.
Chef's Choice A La Carte items will also be available!
THE ALL DAY MENU WILL NOT BE AVAILABLE.
---
FAIRWAY UPDATE FROM AGRONOMY, RON BAKER -
Well, I wish I could say that I still see a couple people not honoring the 90 degree policy, but I am not exaggerating when I say that I have yet to see anyone actually honor it.
As the quality of the turf improves around the entire property, it's going to become much easier to see these traffic areas. Members and your guest need to do to do their part in taking care of the course. I hope that it actually becomes situation where you also police amongst each other. I am sure a few of you are doing it because I obviously don't see everybody but it really is surprising that so many are not.
We will punch these areas in the rough when we do fairways, but if traffic isn't minimized nothing can be done to help.

Have a great week!
---
MEN'S TWO-DAY MEMBER/GUEST - SATURDAY & SUNDAY, MARCH 25-26 -
Gentleman, join us March 25-26 for our Two-Day Member/Guest! Partake in a delicious breakfast and Bloody Mary bar before playing golf and enjoying lunch... and who could forget the Open Bar!
Each player will also receive 10 points from Travis Matthew to use on select products indicated below!
Sign up in the Pro Shop or call, 561-487-9273.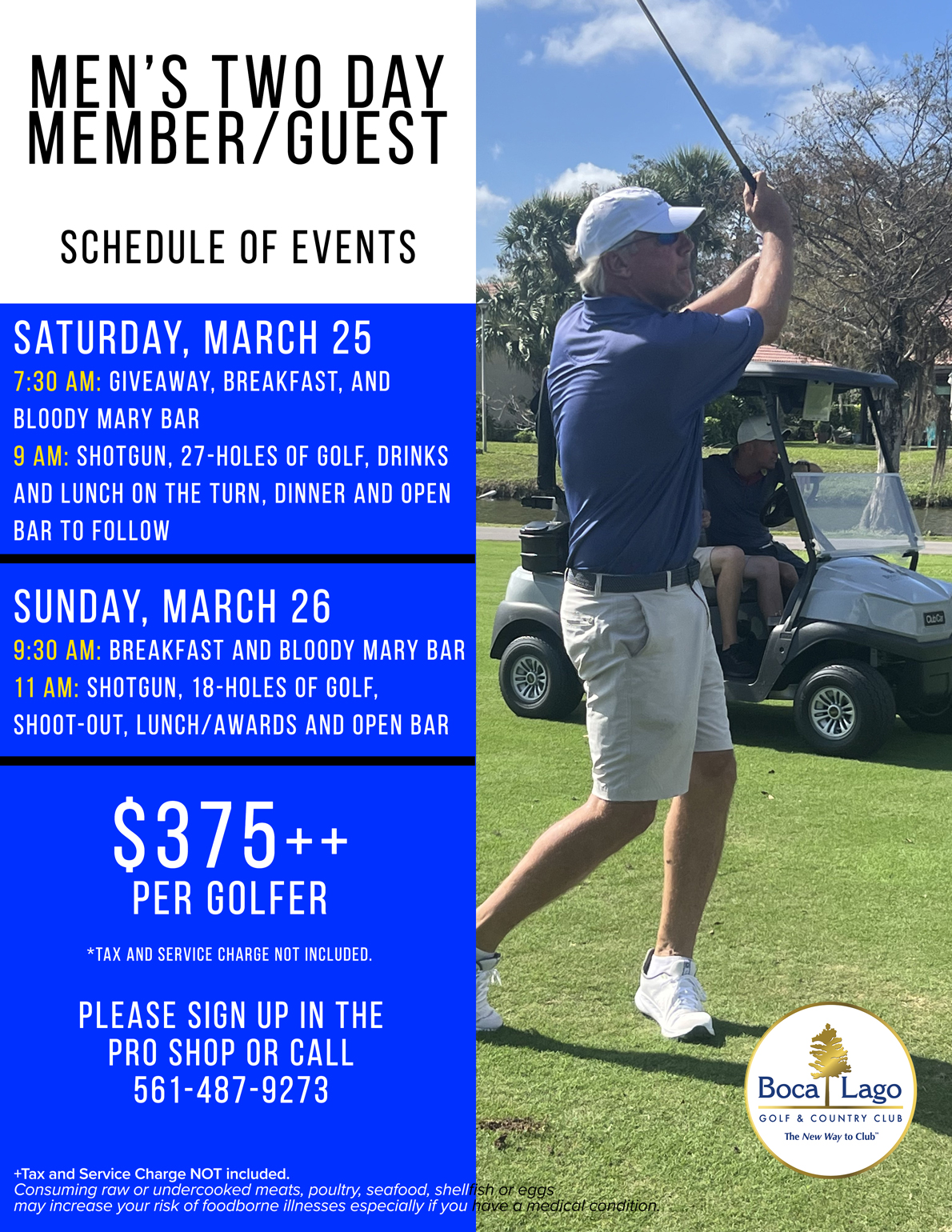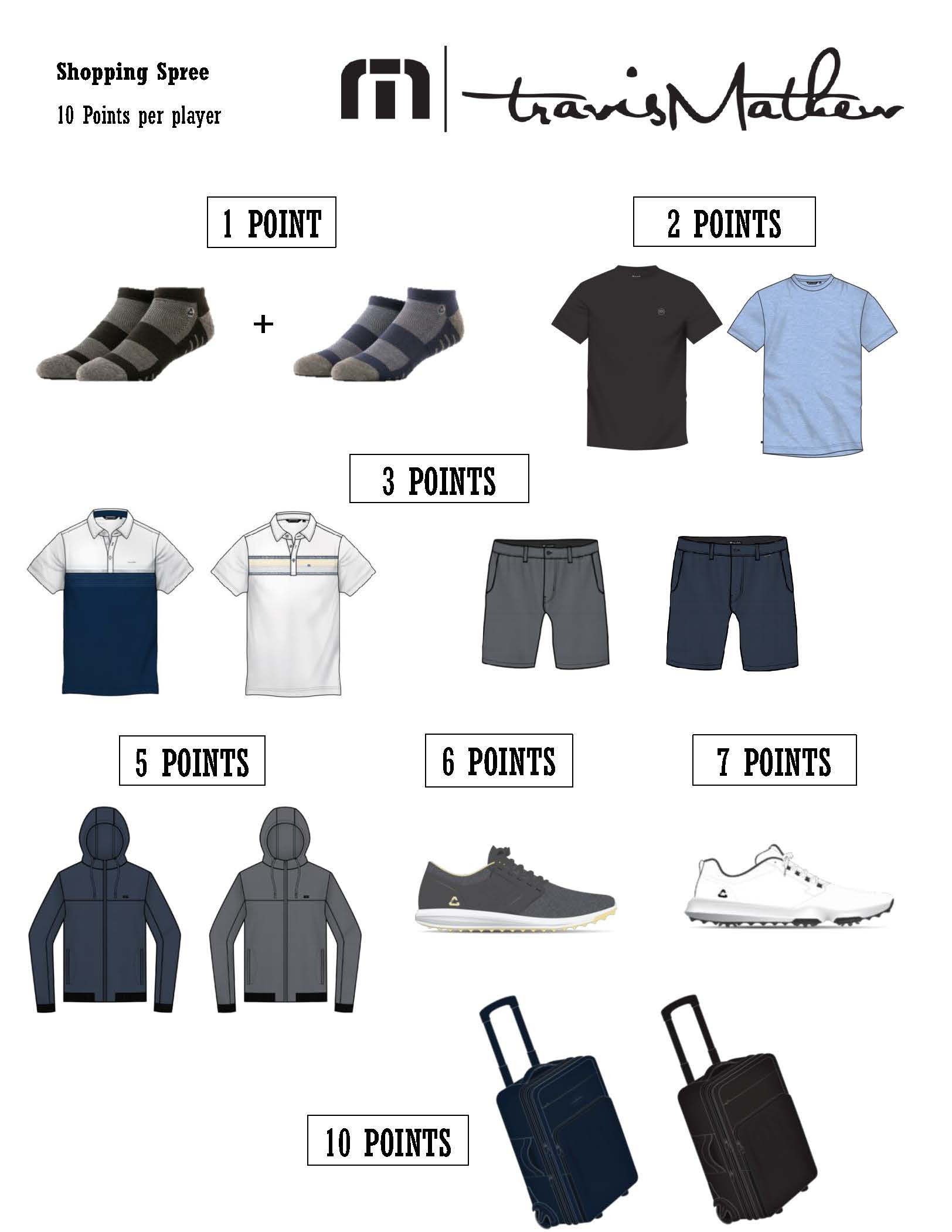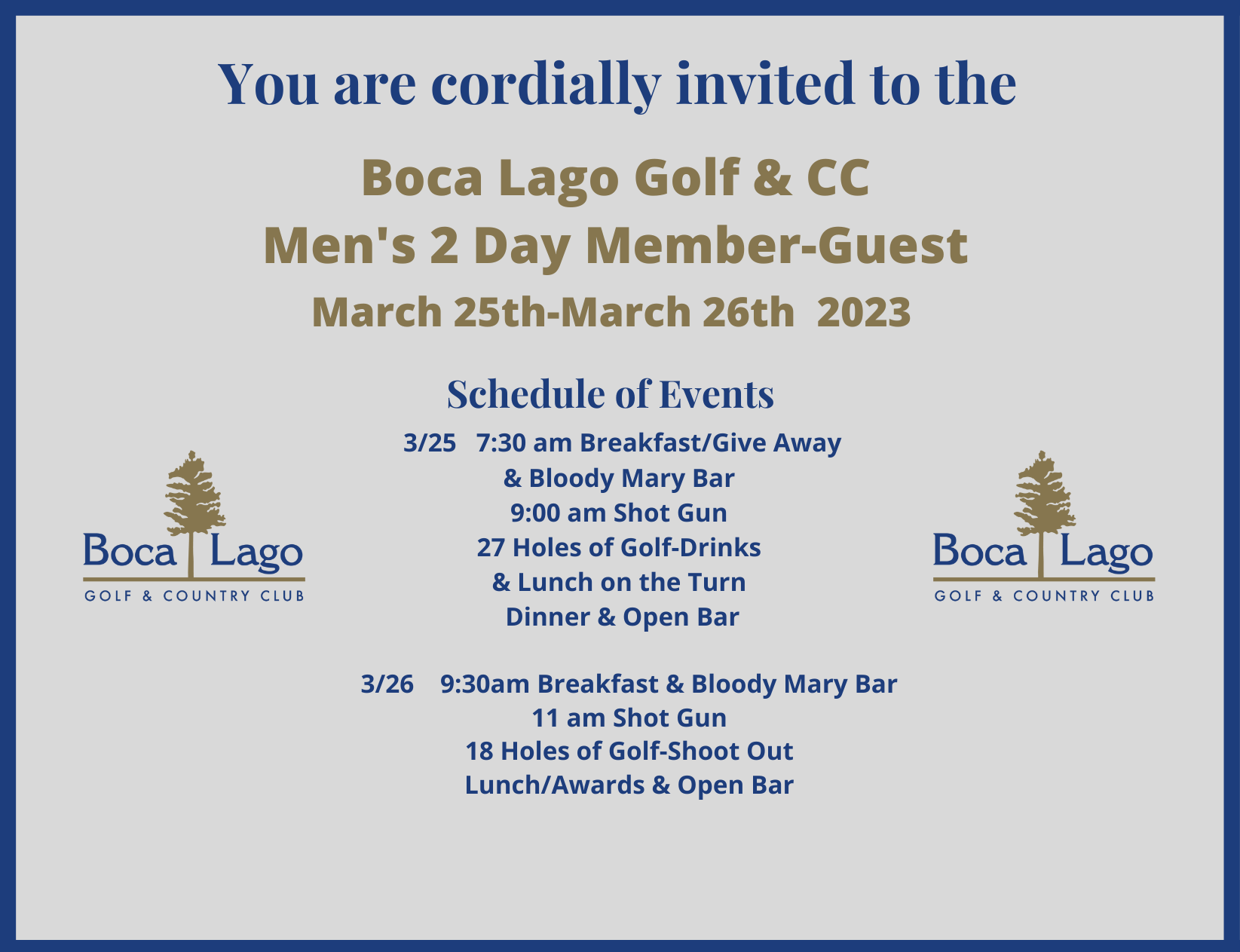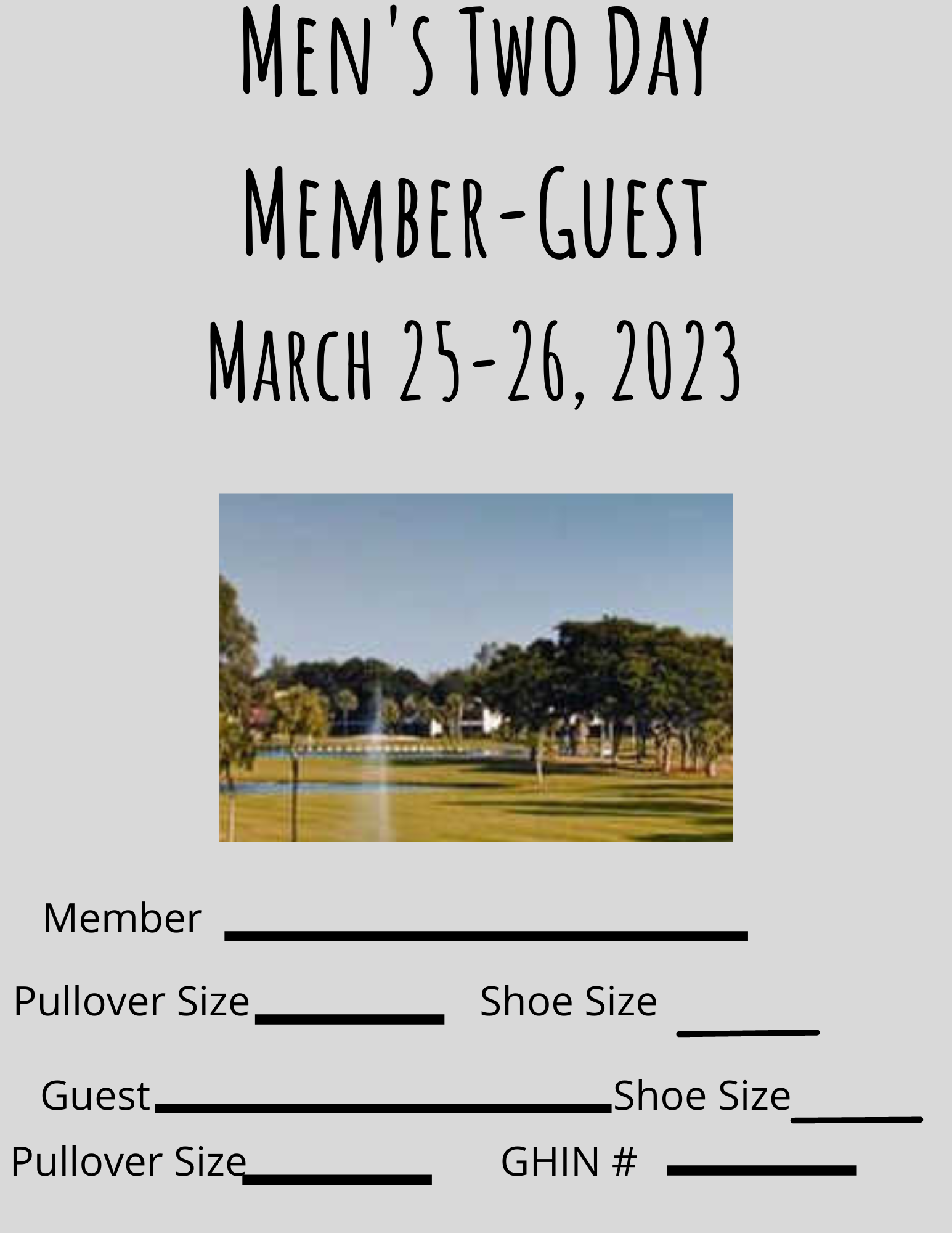 ---
RYDER CUP - SATURDAY & SUNDAY, APRIL 1-2 -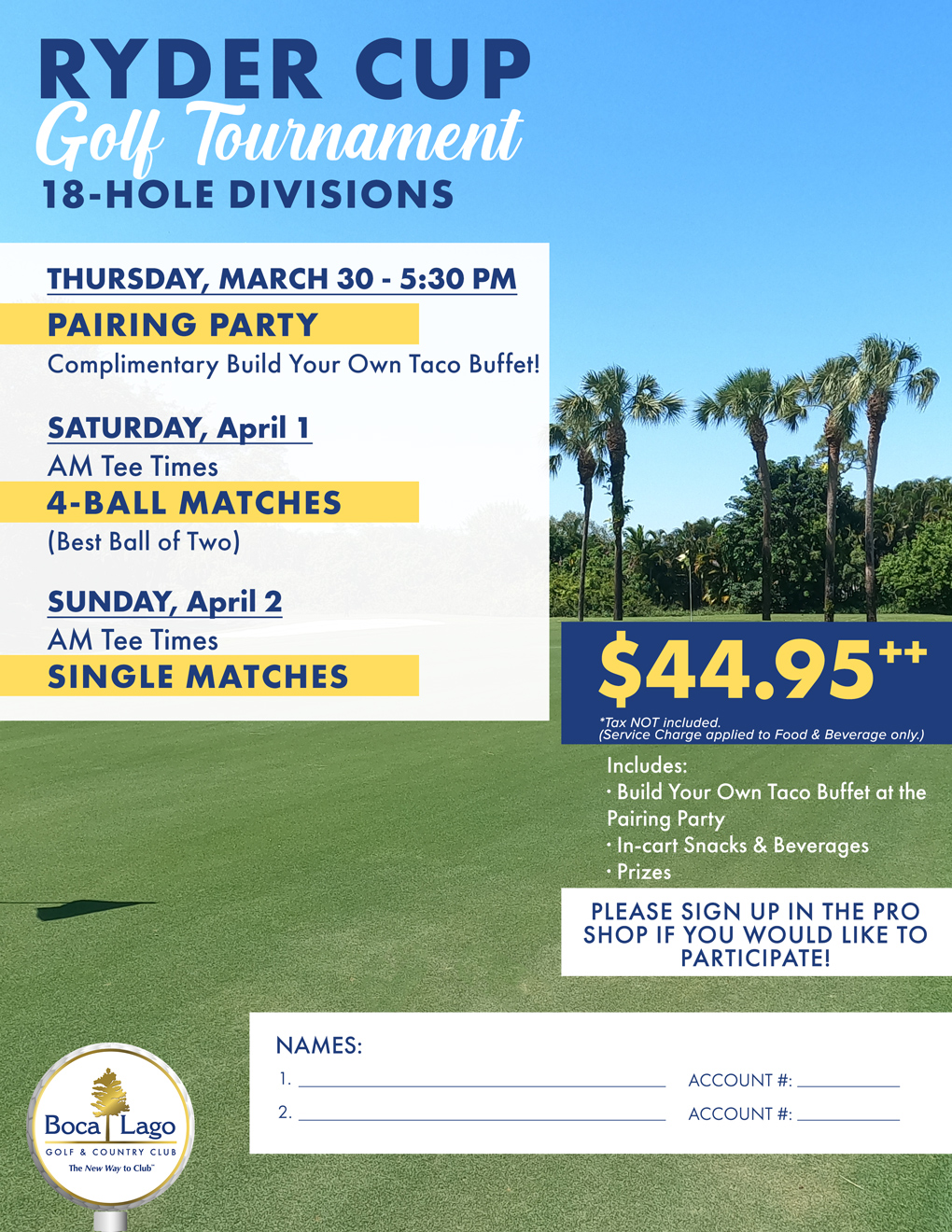 With the increase in membership and less availability of morning tee times, twosomes will no longer be permitted to play any earlier than 10:30. Please make arrangements to sign up for times with a foursome or you will be paired up by our Golf Staff. Another adjustment that will be implemented is that if a group does not show for their tee time and fails to call the Golf Shop prior to their tee time, they will lose the right to make another morning tee time. Memberships are the goal for the future at BLG&CC and as we continue to get closer to our full capacity, there will need to be adjustments in our policies to assure the best golf experience for our membership.
Thank for your cooperation.
Billy Ashford
TRACKMAN SIMULATOR - Our new TrackMan simulator is up and running! Call the Pro Shop to book a time at 561.487.9273. We will have staff on board Tuesday through Sunday 9 am - 5 pm. The amount of information that you receive in your practice session is so valuable. You can also choose from 180 golf courses around the world. Please read the attached flyer for pricing.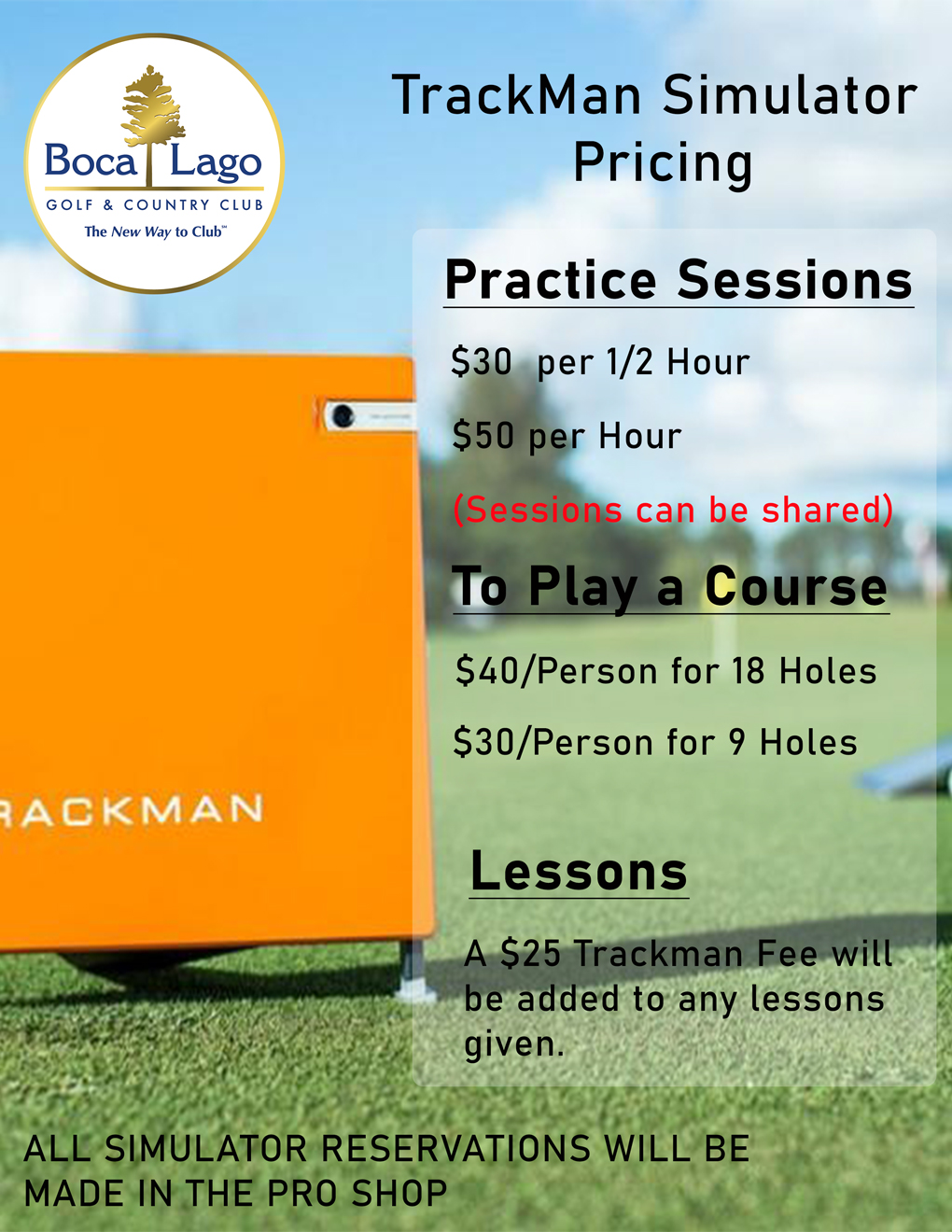 PRO SHOP SALE - Visit the Pro Shop. Some great items are on sale! (See flyer)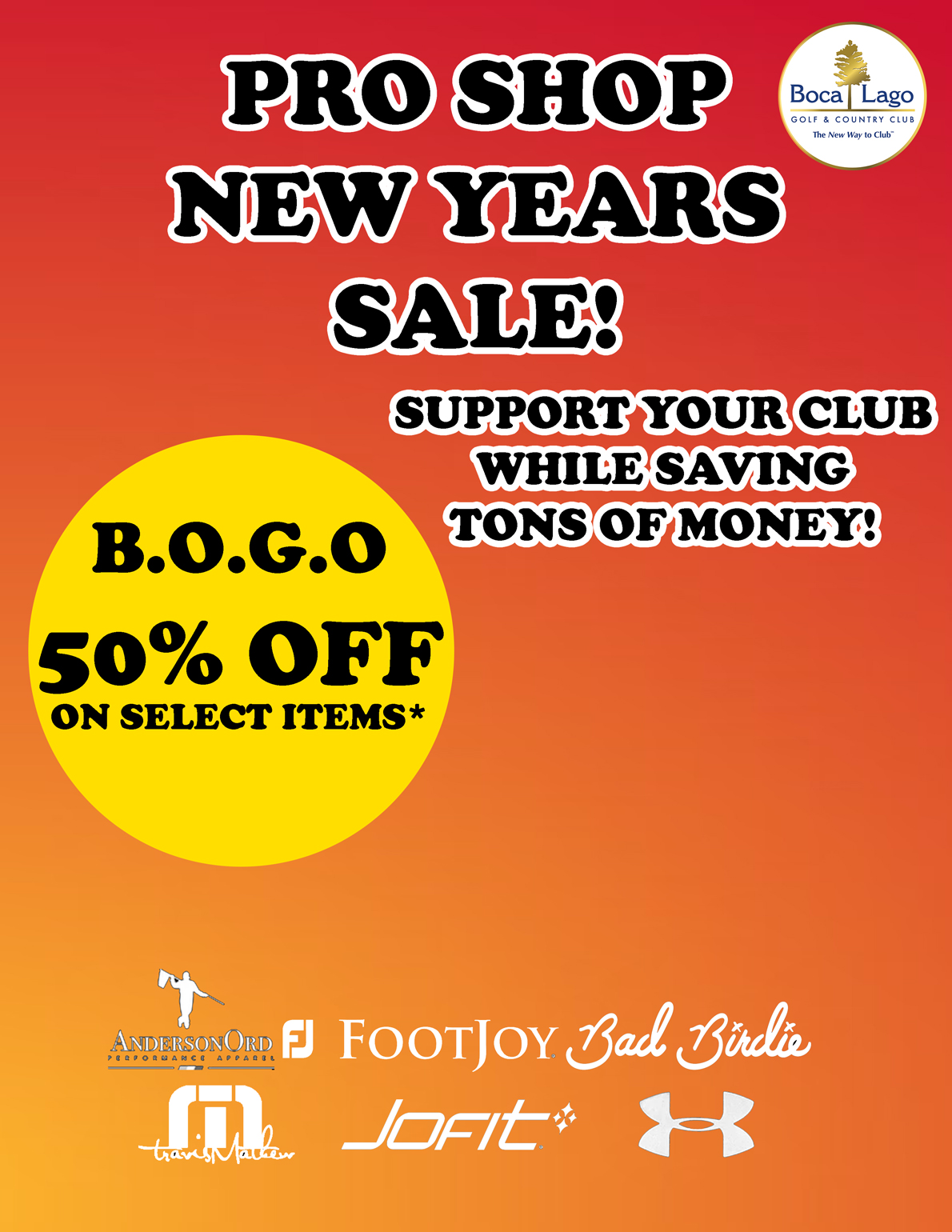 All Golf Members:
The range maintenance hours will be as follows:
The Range will be open 7:30 am on Thursdays.

The closing of the Range will be 45 minutes before dark everyday.
Our need to cut and maintain our Range is very important and due to the sound ordinance, we are forced to follow the 7:00 am start of the mowers. Hence, no one will be permitted to hit balls on the Range until 7:30 am. Range balls will not be on the Range or practice areas until 7:30 am on Thursdays. Please respect our policy and as always, treat our BLG&CC Staff with the utmost respect that they deserve for making sure rules are followed.
2022-2023 LGA
Hi to all Women Golfers,
The LGA is eagerly awaiting the return of our Tuesday Shotguns at 8:30 AM.
We encourage all of our members and our newest women golf members to join our fun-filled and friendly golf league. We succeeded in having an amazing 21-22 Season and look forward to your participation in the upcoming LGA Season. The new season will commence on October 11, 2022 with the Columbus Day 1492 Tournament.
We will once again be holding our third annual very special afternoon shotgun, "Queens of the Greens". Great drinks and terrific meal following the event. This event will be free to those that join the LGA.
Ringer, Birdie, and Iron-Women Awards will be announced at the event being held on April 18, 2023.
The seasonal fee of $120 will be charged to your account in order to participate in the LGA. The fee covers prize money for the year and the 9 hole golf and dinner event.
The tournament schedule is enclosed as well as the application, which should be returned to the Pro Shop.
On behalf of the Ladies' Golf Committee and the entire golf staff… Welcome!!!
Marcia Gordon, Chairwoman.
2022-2023 LADIES' 18 HOLES GOLF ASSOCIATION APPLICATION
NAME: .
EMAIL ADDRESS: .
PREFFERED PHONE #: .
MEMBER#: .
EACH MEMBER WILL HAVE THEIR BOCA LAGO GOLF AND COUNTRY CLUB ACCOUNT BILLED $120
NO REFUNDS WILL BE GIVEN AFTER YOUR FIRST SCHEDULED LGA DATE OF PLAY.
LGA TOURNAMENT SCHEDULE 2022-2023
MAR. 21

NASSAU – BEST FRONT, BACK, AND OVERALL (I)
MAR. 28

CRIERS (I) Throw out worst 3 holes
Apr. 4

NO TOURNAMENT
APR. 11

MYSTERY EASTER EGG REVEAL
APR. 18

QUEENS OF THE GREENS – AFTERNOON COMPLIMENTRY 9 HOLES AND DINNER
APR. 25

BYE BYE BIRDIES DOUBLE SCRAMBLE
Pro Shop Hours
Tuesday-Sunday 6:30 am-5:30pm
Range Hours
Tuesday 6:30 am-7:30 pm
Wednesday 6:30 am-6:30 pm (Prep for cutting Range)
Thursday-Saturday 6:30 am-7:30 pm
Sunday 6:30 am-6:30 pm (Prep for cutting Range)
---