Our new TrackMan simulator is up and running! Call the Pro Shop to book a time at 561.487.9273. We will have staff on board Tuesday through Sunday 9 am - 5 pm. The amount of information that you receive in your practice session is so valuable. You can also choose from 180 golf courses aroudn the world. Please read the attached flyer for pricing.
OPENING DAY!!!
Practice Sessions
$30 ½ Hour
$50 Per Hour
(Sessions can be shared)
Pricing for playing Golf Course
$40/Person for 18 Holes
$30/Person for 9 Holes
(Average 4some takes 1 ½ hours to play)
Lesson Pricing
All simulator reservations will be made in the Golf Shop
A $25 Trackman Fee will be added to any lessons given
PRO SHOP SALE - Visit the Pro Shop. Some great items are on sale! (See flyer)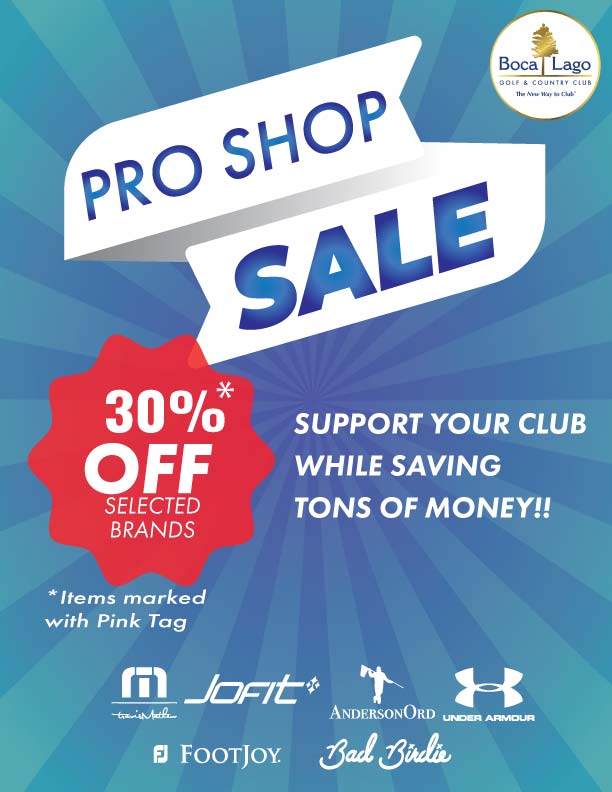 All Golf Members:
Please note that daylight savings time is November 6. The range maintenance hours will be as follows:
The Range will be open 7:30 am on Thursdays.

The closing of the Range will be 6:30 pm on Sundays.
Our need to cut and maintain our Range is very important and due to the sound ordinance, we are forced to follow the 7:00 am start of the mowers. Hence, no one will be permitted to hit balls on the Range until 7:30 am. Range balls will not be on the Range or practice areas until 7:30 am on Thursdays. Please respect our policy and as always, treat our BLG&CC Staff with the utmost respect that they deserve for making sure rules are followed.
2022-2023 LGA
Hi to all Women Golfers,
The LGA is eagerly awaiting the return of our Tuesday Shotguns at 8:30 AM.
We encourage all of our members and our newest women golf members to join our fun-filled and friendly golf league. We succeeded in having an amazing 21-22 Season and look forward to your participation in the upcoming LGA Season, which will commence on October 11, 2022 with the Columbus Day 1492 Tournament.
Before you know it, the new season will be upon us and those that left for the Summer will be returning to Boca Lago Golf and Country Club.
Our First major event will be the popular Ladies' Opening Day! Rules, breakfast, tournament and luncheon will be held on December 6, 2022 with "The Beatles" theme.
We will once again be holding our third annual very special afternoon shotgun, "Queens of the Greens". Great drinks and terrific meal following the event. This event will be free to those that join the LGA.
Ringer, Birdie, and Iron-Women Awards will be announced at the event being held on April 18, 2023.
The seasonal fee of $120 will be charged to your account in order to participate in the LGA. The fee covers prize money for the year and the 9 hole golf and dinner event.
The tournament schedule is enclosed as well as the application, which should be returned to the Pro Shop.
On behalf of the Ladies' Golf Committee and the entire golf staff… Welcome!!!
Marcia Gordon, Chairwoman.
2022-2023 LADIES' 18 HOLES GOLF ASSOCIATION APPLICATION
NAME: .
EMAIL ADDRESS: .
PREFFERED PHONE #: .
MEMBER#: .
EACH MEMBER WILL HAVE THEIR BOCA LAGO GOLF AND COUNTRY CLUB ACCOUNT BILLED $120
NO REFUNDS WILL BE GIVEN AFTER YOUR FIRST SCHEDULED LGA DATE OF PLAY.
LGA TOURNAMENT SCHEDULE 2022-2023
OCT. 11

Columbus Day 1492 (I) W 1,2,6,7,9- E 2,6,7,9
OCT. 18

Even/Odds (I) W 2,4,6,8- E 1,3,5,7,9
OCT. 25

Orange Ball Tournament (T) Wear Orange
NOV. 1

Best Ball Front 9, Scramble Back 9
NOV. 8

Election Day (I) Elect to use 3 BB on par 3's, 3BB on Par 4's and, 2 BB ON Par 5's
NOV. 15

Salute to our Veterans (T) Wear Red, White, and Blue2BB of Foursome on 12 American Flag Holes
Nov. 22

Don't be a Turkey – walk your ball around the water (I)
Nov. 29

Criss/Cross (I) West and East 1 or 10, 2 or 11, ETC.
DEC. 6

Ladies' Opening Day- The Beatles
DEC. 13

13 on the 13 (i) 1,2,3,6,7,8,10,11,12,13,16,17,18 TOES
DEC. 20

(I) To celebrate Christmas and Chanukah our gifts to you are free lifts out of all sand traps. Place your ball on the side of the bunker.
DEC. 27

NO TOURNAMENT
JAN. 3

No Ice, No Snow – 18 Individual Holes is the way to go
JAN. 10

-12 MEMBER/MEMBER
JAN. 17

One BB of Foursome (T)
JAN. 24

IBB ON 3'S & 4S, Scramble on 5's (T)
JAN. 31

Ground Hog Gimmee- 1st on green uses BILL- 1 BB of Foursome (T)
FEB. 7

N.O.S.E. (I) 1,6,7,8,9,11,16,17,18
FEB. 14

Valentine's Day- Pink Ball Tournament (T) 1 bb of 4some (Wear Pink or Red)
FEB. 21

SADIE HAWKINS ALTERNATE SHOTS
FEB. 28

Color Wars – YELLOW OR BLUE – BOCA LAGO COLORS
MAR. 3

MEMBER/GUEST
MAR. 7

(I)
MAR. 14

SHAMROCK IS A 4 LEAF CLOVER *COUNT ONLY PAR 4S (WEAR GREEN)
MAR. 21

NASSAU – BEST FRONT, BACK, AND OVERALL (I)
MAR. 28

CRIERS (I) Throw out worst 3 holes
Apr. 4

NO TOURNAMENT
APR. 11

MYSTERY EASTER EGG REVEAL
APR. 18

QUEENS OF THE GREENS – AFTERNOON COMPLIMENTRY 9 HOLES AND DINNER
APR. 25

BYE BYE BIRDIES DOUBLE SCRAMBLE
THURSDAY NIGHT FOOTBALL - THE DOGLEG LOUNGE will be open. The Kitchen Staff will be here until 7:30 pm and all items on the menu will be available. All Thursday Night Football games are now exclusively on Amazon Prime. Prime has been added to every TV in THE DOGLEG LOUNGE so that our members can enjoy all of the Thursday Night Games.
Pro Shop Hours
Tuesday-Sunday 6:30 am-5:30pm
Range Hours
Tuesday 6:30 am-7:30 pm
Wednesday 6:30 am-6:30 pm (Prep for cutting Range)
Thursday-Saturday 6:30 am-7:30 pm
Sunday 6:30 am-6:30 pm (Prep for cutting Range)
---