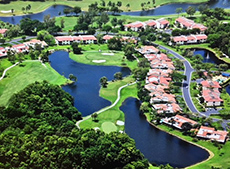 Limited
Membership Offer
Click Here
Convenient Location. Incredible Amenities. Wonderful People.
Boca Lago Country Club spans over 250 acres of pristine grounds including 50 acres of shimmering lakes. Our tropical landscaping and natural surroundings are heavily populated with some of the most beautiful bird life in South Florida.
The Clubhouse
A $3.6-million renovation of the clubhouse is underway and scheduled for completion in late 2018. Upgraded dining areas and pool complex, as well as all-new outdoor dining and gathering spaces are among the highlights of the renovation.
The reconfigured dining room, long a popular special-events venue, has been opened up to accommodate seating for up to 375 guests, including a dance floor and stage. Floor-to-ceiling windows present elevated views of the golf course and lake on the east side of the 250-acre property.
A new arrival experience and entrance will greet members and guests, enhanced by lush landscaping, a refreshed color palette, and a light, airy lobby. Seating areas and reading nooks also will be added, while the Grille Room, Living Room, and Lounge will be updated with new carpeting, furnishings, and vibrant color palette.
The floorplan of the clubhouse has been reconfigured to maximize the views of the golf course, lakes, and swimming pool, while enhancing the flow into an expansive new covered patio. The outdoor Tiki Bar, adjacent to the pool, will feature a grill for casual dining, as well as golfers making the turn.
With three dining experiences to choose from, members and guests enjoy a wide range of attentive service – from white-glove banquets to simple, heart-healthy selections in a casual atmosphere.
Other areas of the clubhouse include a state-of-the-art health and wellness center, men's and women's locker rooms, game room and golf shop.
Golf
The 27-hole golf experience at Boca Lago has been reconfigured and renovated under the direction of Jan Bel Jan Golf Course Design, Inc. and golf course superintendent George Redshaw, GCSAA. Scheduled to be unveiled in November 2018, the redevelopment of the South, East and West nines includes redesigned greens, repositioned bunkering in the fairways and around the green complexes, as well as reshaped and rearranged teeing grounds. Each hole offers five teeing areas and some of the back teeing grounds have been lengthened to provide significant challenges to more skilled golfers, while the four regulation teeing grounds are designed to fairly engage golfers with slower clubhead speeds. All 27 new greens are being planted with Tif-Eagle Bermudagrass, while the fairways will be Latitude 36 Bermudagrass, and the teeing grounds will feature Tif-Grande Bermudagrass. A new fleet of GPS-equipped golf carts is available for members, guests and outings. Walking is permitted, based on pace of play.
A major expansion of the practice facilities includes more full-swing space, a superior practice putting area and dedicated short-game area, as well as two practice holes that can be played in multiple ways. The practice areas are of similar grass types as the golf course.
The original architectural design, which opened in 1975, was created by Robert Von Hagee and Bruce Devlin.
Tennis
The tennis club underwent a full refurbishment of its clubhouse, shop, and locker rooms in 2018. The club features 20 courts (16 Har-Tru and 4 hard), swimming pool, and Jacuzzi, and is home to the Rick Macci Tennis Academy.
Our People
Every member of our staff is focused on consistently delivering friendly, personalized service. Whether serving food poolside or organizing one of our prestigious golf tournaments, the Boca Lago staff delights in pampering to make you feel very special. This warm approach reflects Boca Lago's comfortable and embracing environment, indicative of our pride in serving your every need. We want you to consider the club your home away from home.
Convenient Location
Boca Lago Country Club is located in Boca Raton, Florida, one of the most beautiful cities in Florida, famous for exceptional living standards and quality of life. We are conveniently located between West Palm Beach International Airport and the Fort Lauderdale International Airport, just off the Florida Turnpike.