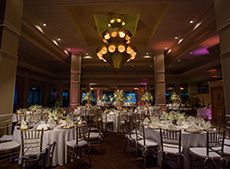 Schedule A Tour
Let the staff at Boca Lago delight you!
Contact Us
Looking for the perfect space for your special occasion. Well, it's here.
The Boca Lago Country Club is one of the premier event venues in Boca Raton. Executive Chef Doug Kirrstetter, C.E.C and his culinary team will delight you, your family and friends from knowledge gained through years of culinary experience. Our menus can be customized with a wide selection of fine food and beverages to satisfy your palate. The quality and service provided by the staff at Boca Lago will make your special day memorable for you and your guests!
Our South Florida clubhouse makes the perfect Boca Raton wedding venue or Bar/Bat Mitvah venue.